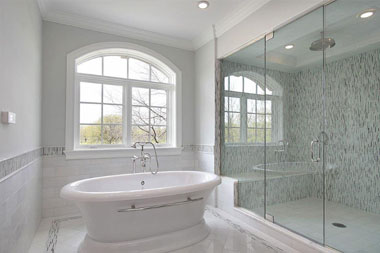 Attention is increasingly being focused on the bathroom, on its status as a place of revitalization, as somewhere to pause and retreat. Today's bathrooms have become living spaces. The concept of the bathroom has now been configured with a spa-like approach, modular products and smart technology. People are looking for designs that embrace their personal needs, individual space and unique experience. Customers are seeking bathrooms that are pleasing, efficient and economical while being attractive and timeless.
The Home Improvement People Inc. renovate hundreds of bathrooms each year. We remodel powder rooms, main bathrooms, master ensuite bathrooms, and basement bathrooms.  We provide full renovation services as well as specialty individual items such as tile and plumbing fixture replacement. We can provide additional bathroom features such as glass shower enclosures, heated floors, and tub to shower conversions. We have experience renovating bathrooms of all shapes and sizes and experience in maximizing the value for homeowners.
Bathroom design, like kitchen design, is complex and that's why we provide you with professional design consultants that specialize in the latest trends in bathroom renovation and design. Working with you, we will guide you through bathroom design ideas that suit your goals and sense of aesthetics to create an innovative, relaxing, elegant space that brings a smile to your face.