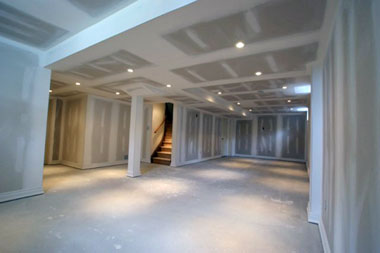 Our basement team is comprised of our designers, installers, licensed staff and a personal project supervisor. All members of the team are trained to follow proper building codes, proper construction methods, and to consider the unique factors that may apply to your project.
We understand that the most important and fundamental step in any basement transformation is to ensure that the basic external construction of your below grade area is structurally sound, dry and totally moisture free. Our team of experts will thoroughly examine the bare bones of your below grade space to resolve all your basement problems before any type of finishing is installed. Our basement conversions are designed to last a lifetime. We can waterproof, repair foundations, reinforce cracked walls, replace wet, soggy or moldy insulation, encapsulate crawl spaces, rewire or replace wet or inadequate electrical cables and fittings, service or replace your sump pump, and correct other leak problems.
Increase the living space in your home to spend time with your family, entertain, and acquire the storage space you've craved.